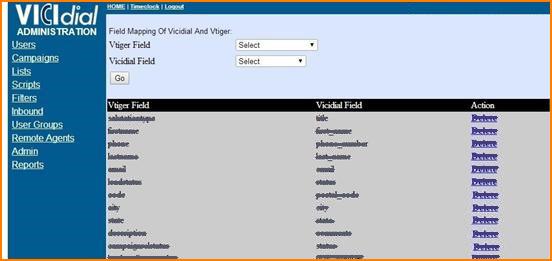 Hi Folks,
We are happy to announce you that we successfully implement integration of Vtiger with VICIdial.
Following is the key screens where integration was mainly implemented.
---
1. Field Mapping:
This screen use to set the fields of VICIdial with the fields of vTiger Leads so based on mapping system can associate and append the data accordingly.
---
2. CRM Tab on VICIdial:
Provided an option in the VICIdial to display the CRM tab. so if you see below (in screenshots) the leads in VICIdial display. based on the integration of CRM with vTiger same leads open in the CRM tab when user click on the CRM Tab.
Leads in VICIdial:
---
3 Leads in CRM:
---
1. CRM is opened in the VICIdial screen so agent doesn't have to navigate to separate page.
---
2. Movable script window under CRM for agent to read/speak during the call.
---
---
4. User management and Roles Synchronization:
(Integration of vTiger user with VICIdial and VICIdial users with vTiger)
---
1. User List in VICIdial:
---
2. User List in Vtiger:
---
We have done much other integration in vTiger for VICIdial like click to dial, access recording under PBX Manager of the Vtiger etc…
Feel free to contact us on info@varianceinfotech.com for any assistance in Integration of VICIdial with Vtiger.
---
Do You Need more information ?
---
For any further information / query regarding
Technology
, please email us at
info@varianceinfotech.com
OR call us on
+1 630 861 8263
, Alternately you can request for information by filling up
Contact Us
by