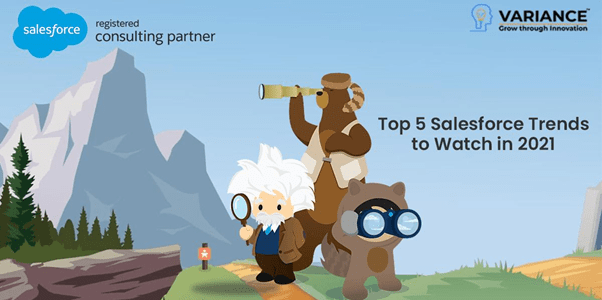 In addition to being the #1 CRM provider worldwide, Salesforce is also the #1 market share leader for CRM in most part of the world( North America, Western Europe and Asia-Pacific)
Well, there exist several trends that will keep the position in the coming year, 2021. In this post, we will discuss the upcoming trends that will hit the market of Salesforce CRM on a large scale.
Customer 360 is a tool that empowers companies to connect various Salesforce apps to enable a complete view of a customer's journey.
Customer 360 exhibits customers' data in a dynamic view, providing every crucial detail together from various domains like service, commerce, marketing, sales, and more.
With the latest and improved Customer 360 platform, the organizations that use Salesforce can nowadays record the behavior of customers on the business channels.
A good understanding of customer behavior will ultimately result in the appropriate customization of business and generate better revenues.
Salesforce released Einstein AI some time back, and while it is growing consistently, at present it is very much handy to improve the functioning of current products to gain maximum out of them.
In the year 2021, it will be going to exhibit its efficacy all through the two significant products, voice bots, and voice assistant. Experts predict that in 2021, executing Einstein AI into Salesforce products is going to be the most common request to Salesforce consulting companies and individuals.
3. Tableau Analytics Integration with Salesforce:
---
Tableau is a robust and fastest-growing data visualization tool used in the Business Intelligence Industry. It assists in simplifying raw data into a very easily understandable format.
Data analysis is very quick with Tableau and the visualizations created are in the form of dashboards and worksheets.
In August 2019, Salesforce bought Tableau for $15.3 billion.
In coming year also it will prove as value added feature for Salesforce CRM.
Marketing Automation Tools contain Salesforce Marketing Cloud and Salesforce Pardot.
Pardot is a SaaS marketing automation platform managed by Salesforce. It is a lead management tool designed for B2B sales and to manage campaigns of marketing organizations. The main objective of this tool is to use for an e-mail marketing purpose.
While Marketing Cloud, is a platform for delivering relevant data based on journeys across channels and devices.It enables marketers to deliver the right message at the right time to the right people throughout all phases of the relationship.
Many business owners will attempt and avail this method of Salesforce Marketing services in 2021.
5. MuleSoft Capabilities with Salesforce:
---
Customers expect connected and seamless experiences.They don't want to see the layer where your systems and departments meet.MuleSoft can connect any system, application, data, and device to unleash the power of the Customer 360.
The collective power of Salesforce and MuleSoft means you can speed up your digital transformation and give companies the ability to unlock data across systems,develop scalable integration framework, and ultimately create differentiated, connected experiences at a rapid pace.
In the coming year also ,MuleSoft Capabilities with Salesforce will Help to connect it legacy and on premises -rivals.
Regardless of the nature of your business, it is essential to know your customers. This is what exactly salesforce CRM does for you, i.e enables you to deliver amazing customer experiences.To learn how to accelerate digital transformation, achieve maximum ROI, and unified customer experience please
contact us
.
Do You Need more information ?
---
by