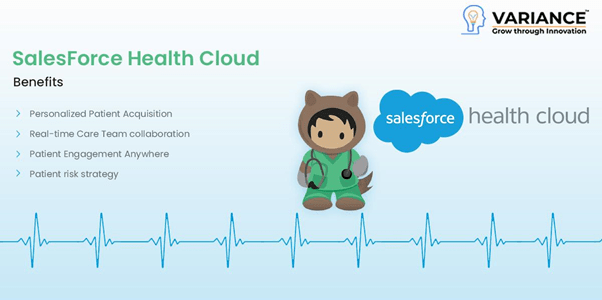 Why is the Health Cloud important for Salesforce ?
---
The Healthcare Industry nowadays needs more digital transformation. In 2016 Salesforce Introduced the Health cloud as part of its extensive effort to compete with the likes of SAP and oracle with Industry specific Software.
As per the 2018 record in the USA, more than 3.5 trillion Dollar spent on the Healthcare Industry.
In June 2020, Salesforce announced its plans to buy Vlocity, an industry cloud, and mobile software provider, for approximately $1.33 billion. Vlocity was built indigenously on the Salesforce platform and serves six specific industries, including health.
Salesforce Health Cloud vs EHR Software:
---
We are often asked what is the difference between Salesforce Health Cloud and EHR software. While there are some areas where these two systems intersect, the underlying purpose for each differs, We'll explain the differences by contrasting the vendor domain and product offerings for both EHR and Salesforce Health Cloud.
What are Electronic Health Records?
---
An electronic health record (EHR) is also a digital version of a patient chart, but it is a more inclusive picture of the patient's medical history. EHR is designed to be shared with other providers, so authorized users may instantly access a patient's EHR from across different healthcare providers(EMR).
The benefits of EHRs include:
Streamlined sharing of updated, real-time information.
Handy tools that providers can use for decision-making.
A settled medical history of the patient, from allergies and radiology images to lab results.
What is the difference between EHR & Health Cloud?
---
In general, EHR vendors do not promote the ability of customers to significantly customize their applications. Nor do they connect an ecosystem of third-party developers and products. EHR systems tend to be purpose-built systems for which the vendors solely are responsible for continuous improvement. This is an important difference from Salesforce Health Cloud.
What is Salesforce Health Cloud?
---
Salesforce Health Cloud is a layer of pre-developed functionality for healthcare organizations that are built on top of the popular
Salesforce CRM
platform. Let us understand what it is composed of.
At its core, Salesforce excels in helping organizations acquire and retain customers. These core functions of CRM inherently translate into several addressable areas in healthcare. Many of them are capabilities that allow for more usefully reaching outside a practice. These include:
Physician recruitment
Physician outreach
Patient marketing campaigns
Patient complaint logging

One-click logging of 1:1 patient & physician email services
2. Salesforce Health Cloud:
---
The Health Cloud software works as additional functionality that rests over the main CRM core. Salesforce regularly releases new functionalities through their seasonal releases and this helps the application to become even more powerful and productive. Here are some examples of current functionality:
Real-time Care Team collaboration.
Personalized Patient Acquisition.
Patient risk strategy.
Patient community.
Patient Engagement Anywhere.
3. Open Ecosystem & Partner Apps:
---
The Salesforce partner ecosystem is the third layer. it's made up of dozens of third-party software developers and service organizations.
Examples of third-party software vendor products listed on the Salesforce AppExchange include RideToHealth and myStrength Behavioral Health etc.
At many practices that use Health Cloud, Salesforce is integrated with the EHR system. The new no-code integration tool, called Destinations, comes from the ISV Bridge Connector. It enables Salesforce admins to easily integrate Electronic Health Record (EHR) data into Health Cloud with predefined data mappings.
In addition to being available on AppExchange, Destinations is available on the Anypoint Exchange as an API spec, so MuleSoft healthcare customers can orchestrate patient data across Salesforce and third-party systems.
Consulting organizations/Salesforce partners continue to be involved in the services component of EHR integration.
How's User and Patient Experience?
---
As per the last 2020 updated record Users and patients love to use the Health cloud CRM Ecosystem. Just because Salesforce Health Cloud comprises these different layers, it doesn't mean that the system is complicated for end-users.
Salesforce's Lightning Experience interface was designed for easy communication by developers, administrators, physicians, caregivers, and patients. It allows for introducing the right set of screens for each user type at each organization.
To succeed in the advanced healthcare industry, providers must build personalized, engaging relationships with each patient. Salesforce Health Cloud unlocks a panoramic view of each patient and helps providers to utilize these complete patient views in a smarter, more personalized way.
Do You Need more information ?
---
by