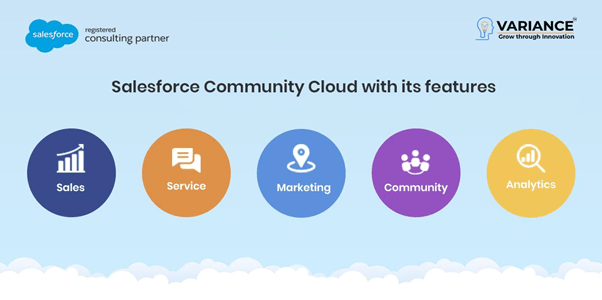 What is Salesforce Community Cloud?
---
In a short,
Salesforce Community Cloud
is a social platform, designed to connect customers, partners and employees in a single place, which is easier to manage and share information. End-Users can access it both from desktop and mobile devices.
The solution allows organizations to implement extended collaboration features, like a portal,and start creating communities, in a few days without spending months on coding and customization.
Not only that, the salesforce community cloud is also the platform that can be used to share information without creating any additional user that can be a costly affair.
Salesforce community cloud bundle with the enterprise, performance, unlimited and developer salesforce editions.
Cloud Community Licenses:
---
There are various different community licenses, editions and types. There are community licenses which include customer community, customer community plus and partner community. All of these licenses have types, which are either member-based or login-based.
Member-based licenses give access to a community as many times as they want and login-based licenses allow for a certain number of logins per month. When choosing the types of licenses, plan out how often you want to connect to the communities and what feature and object access it provides.
Features of Community Cloud:
---
Community Template and Component:
---
In Salesforce community cloud, we need a front end template to create your community portal. Salesforce provides pre-built templates for that. For most simple lay-out, we can leverage them and even customize them a little for specific needs. Not only that we can use custom
visual force pages/lightning component
and give a new life to community portals.
Salesforce community cloud allows you to create users and passwords. However, instead of manually granting access, you can leverage Salesforce's social sign-on features, Which allow access to salesforce through many different social networks like linkedIn, twitter, etc. it also supports the OpenID connect standard.
In all the modern communities and forums you would see a feature related to the recognition of a member. Like, most active members would have recognition badges on their profiles or the member's recognition rating on their every post. Salesforce community cloud has this feature inbuilt.
Salesforce Files and Documents:
---
In addition to sharing information stored in objects, you can also share documents and other files with community cloud users. Like providing access to knowledge files and chatter files.
Salesforce community cloud is powered by advanced online community software that connects employees, partners, and customers into a seamless, productive ecosystem, which works to better your business. The customization, different types of licenses, and easy build are all amazing reasons why a Salesforce Community can be beneficial to your Organization.
Do You Need more information ?
---
by