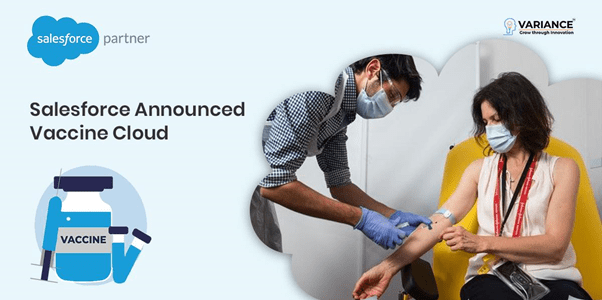 Introducing: Salesforce Vaccine Cloud.
---
Salesforce
the global leader in CRM, announced Vaccine Cloud, an end-to-end vaccine management platform to help government agencies, healthcare organizations, businesses, to rapidly, safely and efficiently deploy and manage their vaccine programs.
Vaccine management has become a hot topic in the enterprise software industry as healthcare organizations and government agencies try to bring people back to the work and re-start economies. So far, vaccine rollouts have been delayed due to supply, outdated processes and systems and data management problems.
According to Bret Taylor president and COO of Salesforce, "The biggest challenge the world faces right now is orchestrating the distribution of billions of vaccine doses. Technology can play a critical role in ensuring it's done efficiently, effectively, and equitably."
Salesforce is proud to be supporting organizations through this recovery and helping people to protect against the effects of COVID-19.
Component of Vaccine Cloud:
---
Vaccine Cloud
will take the place of work.com for vaccines, which was focused on public sector customers. Vaccine Cloud is a bundle of core salesforce apps and tools like health cloud, service cloud, experience cloud, digital engagement, tableau and mulesoft. It is designed specifically for governments agencies and health care organizations.
Highlights of Vaccine Cloud:
---
Monitoring tools with holistic view on vaccine inventory, patient outcomes, health status and local demographics.
Integration powered by Salesforce's MuleSoft to connect legacy data systems.
Training, education, payment, and reimbursement modules as well as communication platforms to manage consent, registration, scheduling, and dosing.
Visualize vaccination data and verify digital health credentials.
Today, government agencies and healthcare organizations worldwide are using salesforce CRM technology specifically for vaccine administration. To name a few are Northwell Health, Illinois' Lake County, University of Massachusetts Amherst, Gavi, the Vaccine Alliance and more.
The Salesforce partner plays a key role in enhancing the power of  vaccine cloud to scale vaccine programmes for government and healthcare organizations. In addition to partners some of the IT consulting and service organizations are already leveraging vaccine cloud solutions to help organizations to speed up their vaccine management programmes.
Vaccine Cloud is part of Salesforce's COVID-19 response technology solutions, To Learn more about Vaccine Cloud
Click here
.
Do You Need more information ?
---
by