CRM 2013 Update: TEN Points You Want to Know
---
** Updated 11 October **
CRM 2013 is latest udpate from microsft with new feature and enhancement over CRM 2011.
---
Download an official Microsoft resources:
---
CRM 2013 Launch Preview Guide link ?
What's Modified in CRM 2013 link ?
Best Practices to make for the Upgrade to CRM 2013 link ?
---
Here are 10 instant things to consider::
---
(1) Ms Dynamics CRM 2013 (previously codenamed Orion) has started rolling out to the cloud editions of Dynamics and will also be available for on-premise CRM in November 2013.
Because this is a major platform update CRM Online customers should be able to select a appropriate time when this can be applied to their live database within the NINETY day upgrade window.Microsoft started sending upgrade invitations at the end of July and CRM Online administrators should be able to pre-schedule an update date and timeslot among October 2013 and February 2014.
---
(2) For on-premise CRM 2011 customers CRM 2013 will also include the enhancements from the earlier Polaris cloud release in January 2013. These include the newest process driven (or 'flow') interface and integrating with Bing Maps, Skype & Lync.
---
(3) For On-Premise CRM, 2013 updates will simply be available to CRM 2011 or Version 4 customers which hold active Microsoft Software Assurance. v4 customers should first upgrade to CRM 2011 before having CRM 2013.
---
(4) CRM 2013 will apply the latest horizontal user navigation bar which replaces the standard menu ribbon and left menu.
---

---
---
The new user navigation frees up screen space and will remove CRM pop-up windows allowing new records to be developed in a single pane. Read more about the CRM 2013 User Navigation. The updated UI will quickly be applied once the CRM 2013 upgrade is applied. The only exception will be the CRM administration area that continue to be use the traditional ribbon menu and navigation.
---
(5) All users should be able to apply the new process oriented form interface after upgrading. This was first released in the Polaris update for CRM Online customers and will now be available to all CRM customers.
The new process (or flow) interface represents a significant change from early on releases by making CRM more prescriptive and proactive to support users progress tasks.
Microsoft has verified that users will be ready to transition for the new process forms. Existing CRM types will be improved and displayed within the new interface allowing customers to primary explore and test the new process focused interface before you choose to apply that with each entity.
---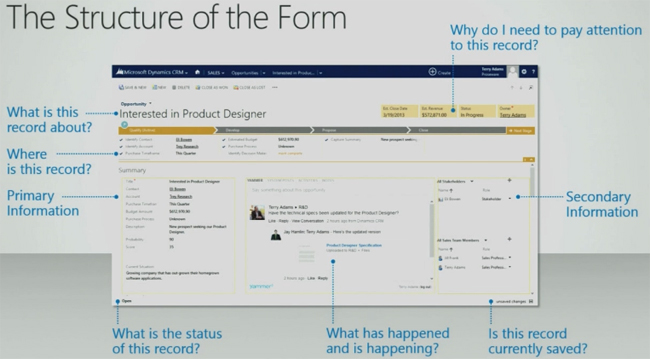 ---
The modified process interface characteristics a number of enhancements since the Polaris release:
Process bars will work around all standard and custom CRM entities. Whereas Polaris just supported One process per entity CRM 2013 allows several process so administrators can determine extra sales, service and other processes as needed. CRM users can switch to a different process if most suitable but individual processes can be created role particular to properly apply defaults and manage user access to individual processes.
In another change from Polaris, processes can also flow via multiple entitles. CRM has usually allowed leads to be converted to possibilities but now the new process extends this. For example, convert a lead to an opportunity and when the sale is won change the opportunity to the custom entity like a project in the same window. The process bar helps stage-gating to enforce your process rules to avoid users progressing records to the next stage if one or more steps have not been finished e.g. if a sales timeline is not set, if the budget is not verified, or if a case origins is not selected.
---
(6) The new UI requires a form auto-save function.
Current CRM workflow processes must be reviewed and modified if they are presently triggered by users clicking on the ribbon save button because this process will no longer exist in CRM 2013. The auto-save can trigger plug-ins on save and with divide scripting CRM can determine between auto-save and on-save techniques if needed. Contact Preact for suggestions to guarantee your 'on-save' processes work properly after upgrading to CRM 2013.
---
(7) Early adopters of the Polaris UI encountered restrictions when attempting to migrate CRM form customisations which included custom code.
For CRM 2013, Microsoft stated that all CRM 2011 scripting and customisations will be migrated and supported when moved to the new UI. However, no CRM v4 API customisation will be supported on this process.
---
(8) Free mobile applications for iPad and Windows 8 tablets have been released as part of the CRM 2013 update.
---

---
As shown above CRM 2013 mobile applications have a touch enabled and consistent look and feel for the desktop browser.
Designed for sales the CRM applications consist of real-time read and write access to opportunities, leads , contacts and other processes though permissions can be set to manage write permissions.
These mobile applications are available from the Windows Store and iTunes. Additional free applications are available for Windows Phone, iPhone and Android mobiles. CRM 2013 tablet applications are be supported with iPad 3rd & 4th generation devices, Surface RT, Surface Pro and other Window 8 tablets.
---
(9) New System Needs. With CRM 2013 the Dynamics systems needs are updated:
Office 2003 and Internet Explorer 7 are no longer supported. Exchange 2007 and WebDav are not supported when using the E-mail router. Terminal Server 2003 is no longer supported with Dynamics CRM for Outlook
---
(10) In built duplicate detection during create and update processes won't be supported for the new Ms Dynamics CRM user interface on standard or bespoke entities. As a result, if you need individual duplicate detection for any record type this will needs to be managed via another route e.g. CRM workflow, scripting, plugins, etc.
---
We have expanded this kind of post to include more recent CRM announcements:
Microsoft has announced a new licensing framework for Dynamics CRM Online for release of CRM 2013
New server side Exchange synchronize replaces the email router for CRM to enhance the sync of activities, contacts & appointments with remote users. CRM Online is supported with Office 365 and CRM On-Premise is supported with Exchange 2010 and Exchange 2013.
New Business Rules allow more native controls to be applied which presently need custom javascript. These are client side enforced condition and action-based rules such as options to cover fields and enforce field entry if a related field value is set. The rules work across web, Outlook and new mobile applications and are handled in the form editor.
CRM Workflows can now be configured using native functions to execute workflows in real-tiime on demand without the need for custom code.
---
Preparing to Upgrade to CRM 2013
The new CRM interface is the result of Microsoft applying customer feedback to increase the user expertise, not least by moving towards a single record screen and getting rid of pop-up CRM windows.Because of the new UI reflects a major shift from the traditional ribbon based forms it presents both challenges and opportunities for current Dynamics CRM customers so careful planning is strongly recommended before CRM 2013 is rolled out to end users.
---
Some questions you should consider include:
---
How will the new process interface help you improve your processes?
Existing CRM database forms can be dropped into the new UI but this might mean that some new enhancements aren't realised.
The new process forms make CRM more prescribed and proactive by visually guiding users via sales and service workflows but this may need some time for customers to test the new process bars and understand how your processes can best be mapped and you may opt to delay applying this part of the update.
Contact a Microsoft partner just like Preact that will help you map across your processes and best optimise this new CRM feature.
---
How long will it take your CRM users to master the new CRM interface?
What familiarisation training will they need on the revised UI and new processes?
Will the new CRM auto-save function need any existing processes that use 'on save' actions to be replaced?
Users will no longer have to manually click a button to save CRM field updates. This simplifies data input by automatically saving field entries but will need changes to automated CRM processes which currently rely on the legacy manual 'on-save' function. ontact us to determine to best action to convert your 'on-save' processes.
---
Can you identify any unsupported coding or legacy CRM v4 database customisations?
These won't be supported when you upgrade to Dynamics CRM 2013.
---
What external CRM add-on's and integrations are you dependant on?
Will these partners give development help to ensure that their solutions are supported with CRM 2013 (Orion).
Microsoft Customer Center – links to official CRM 2013 release and upgrade guides
Watch a recording: of our recent Dynamics CRM 2013 webinar:
As a Microsoft CRM Gold Partner Preact have been involved in the CRM 2013 Beta programme and have been busy learning about the changes and new features to know how it will impact current users and database customisations. Our consultancy team has also been immersing ourselves in the new features to guarantee we increase the potential advantages for our clients.
A lot is changing in the new version so it is imperative which you understand how it will affect your business. We will help you understand what is changing and when you need to be ready for the change.
---
Do You Need more information ?
---
For any further information / query regarding
Technology
, please email us at
info@varianceinfotech.com
OR call us on
+1 630 861 8263
, Alternately you can request for information by filling up
Contact Us
by