Data integration between online and offline customer offers actionable insights into the full customer journey. Learn how Salesforce and Google Marketing Platform work together to connect sales, advertising, and marketing data from your business, and get to know the highlights of the integration- including the benefits, use cases, Sales cycle, and Integration Between Salesforce & Google Analytics.
Benefits Of Google & Salesforce CRM Integration:
---
Salesforce Sales Cloud drives data to Google Analytics 360 for attribution, bid optimization, and audience segmentation.
Find Google Analytics 360 data in the Salesforce Marketing Cloud user interface, and get a clear picture of campaign performance.
Catch audience segments created in Google Analytics 360 in Salesforce Marketing Cloud. Activate them through direct marketing channels such as email and broadcast messages.
Find customer behavioral data from Salesforce Marketing Cloud in Google Analytics 360. Build new audience segments for retargeting campaigns.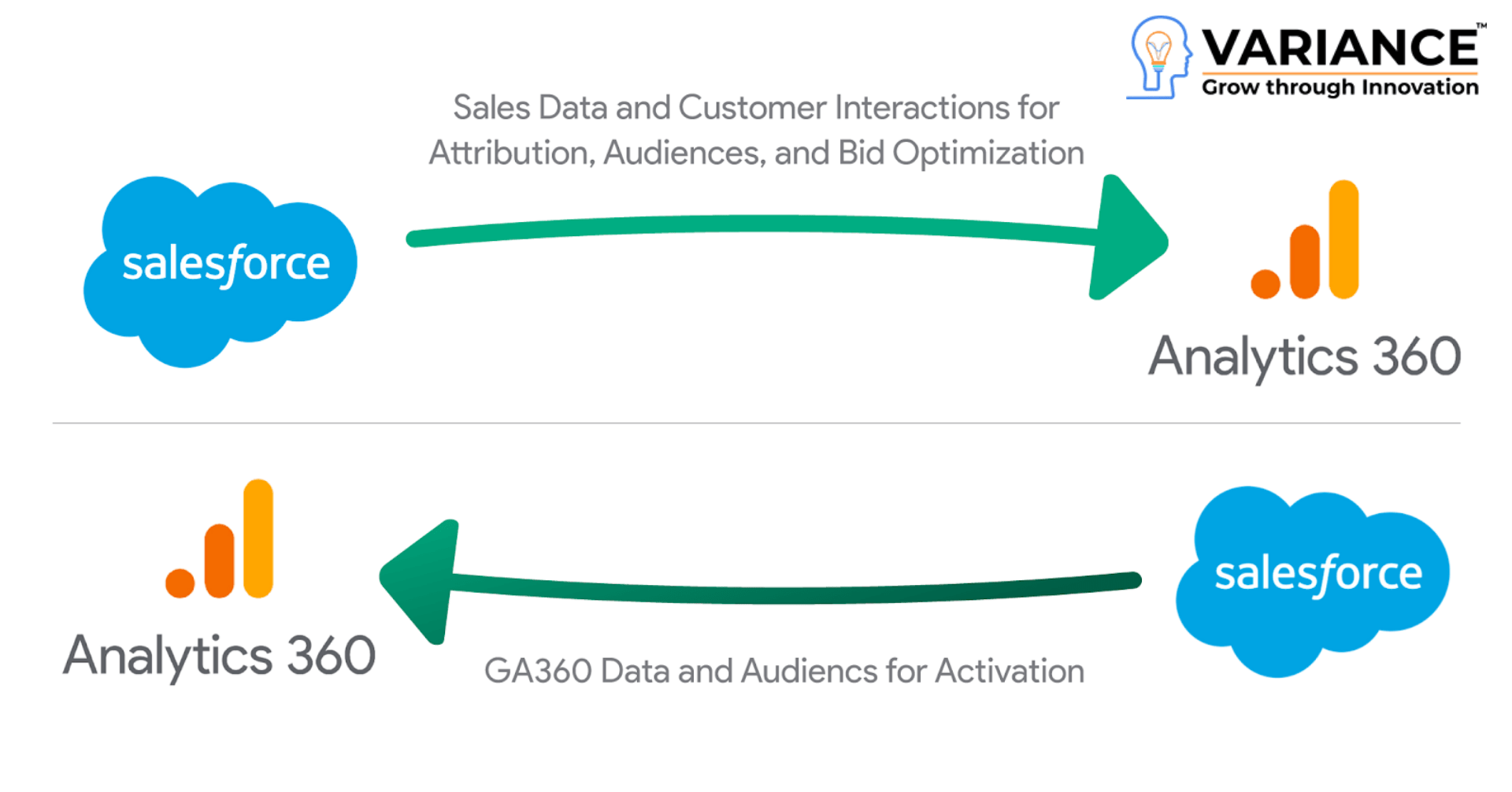 You can also open first-party data & Analyse the full customer journey by combining your Salesforce and Google Analytics 360 data. An extended funnel shows granular data about each step of interaction with your customer as they move through the conversion funnel — from the first awareness interaction through to the sale. Your custom site conversion funnel also Interacts with pipeline data from the Salesforce Sales Cloud.
Use Cases For Google Analytics 360 & Salesforce Integration:
---
Let's read three use cases for Salesforce and Google Analytics 360 in particular:
Use Case 1:
---
Build audience segments in Google Analytics 360 with leads from Salesforce CRM data:
---
When a lead from Google Ads generate completely, they run through your lead scoring model, which might turn them into SQL (Sales Qualified Lead). Then you will try to covert qualify them as an opportunity.
With Google Analytics 360 and Salesforce Sales Cloud integration, you can build dynamic segments in Google Analytics 360 based on data from the Salesforce Sales Cloud. Companies with longer sales cycles can also leverage the data in Salesforce to allocate marketing dollars towards campaigns driving the strongest leads.
Use Case 2:
---
Marketing ROI Analysis via Acquisition Value & Lifetime Cost:
---
Google Analytics 360 and Salesforce integration helps marketers in B2B services easily compare acquisition costs against customer lifetime cost over a given duration in real-time. and the marketing platform is doing the Display & video 360 campaign the same at a different time. The automated process doesn't require any additional time to groom data and tie it back to the marketing channel responsible for the conversion.
Use Case 3:
---
Run remarketing campaigns using Salesforce (CRM) purchase history:
---
However, it was difficult for brands to sync customer purchase history within Salesforce Sales Cloud to the Google Ads cookie, and also challenging to run remarketing campaigns with user acquisition in Google Marketing Platform & Sales Cloud CRM.
You can synchronize a common user identifier across the two platforms, and use it to connect purchase history in Salesforce to Google Analytics.
Google & Salesforce Integration:
---
Integrating these platforms also supports advanced attribution modeling. Move beyond the First-click to Last-click methodology and connect offline and online conversions to the attribution modeling using Google Attribution 360. You'll also see more details about the behavioral results of your marketing campaigns.
Customer interaction types that integrate include:
Website — behavioral data from websites and web-based applications.
Mobile — behavioral data from mobile apps.
Advertising — ad serving data from paid search, paid social, video, smart TV, and display advertising channels.
CRM — data from your CRM platform (Salesforce) with information on your customers, including purchase history and customer service inquiries.
Email — data from email marketing & campaign automation software.
In the flow diagram above, we've included some of the tools you can leverage for attribution reporting, Display and Video 360, Google Analytics 360. We've outlined how these different components integrate into the broader marketing & advertising technology ecosystem.
Salesforce integration with Google Analytics 360 helps you optimize the data and understand your customer identity. You can activate your offline data in Google Ads and Integrate across all of the tools in the Google Marketing Platform.
Do You Need more information ?
---
by