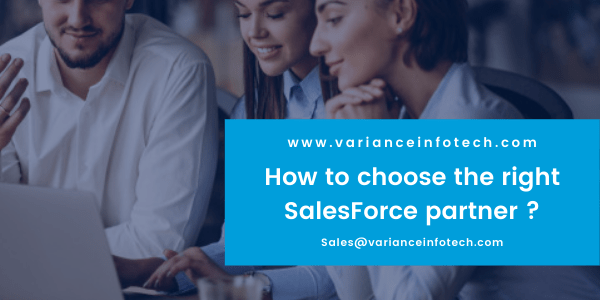 After you have decided to deploy Salesforce as the right CRM solution for your organization, the next step is to find the right Salesforce partner or consultant that fits your needs and culture.
A Salesforce Partner, as the name suggests, is an institution your business works in collaboration with in order to implement Salesforce in your organisation. This partner offers you relevant services and makes use of some of your services in order to ensure smooth installation and implementation of Salesforce. It is very important to choose Salesforce Partner for your business as they will affect the way your team's work to a considerable extent. You cannot randomly select an institution of your choice and make them your Salesforce partners. You need to consider several details and monitor several parameters before making the right choice. Here are some of the key details you need to consider in order to choose a Salesforce Partner:
1.The Size of the Company:
---
Successful projects occur when there is the right mix of skilled personnel available. It will be good for you to know that the partner has a sufficient number and skills within the team to achieve timely delivery.Do not be negotiate into paying massive amounts of money for a Salesforce implementation simply because a company has a big brand name. There are plenty of small to mid-sized Salesforce shops where your project or customer will be their top priority. It is advisable not to discount companies because of their size but don't select them because of size alone.
Working with a consulting partner is a deeply personal experience. Make sure that your vision and values match those of your partner. How your partner conducts business is just as important as the business itself. A good partner is always there when you need support and can help you when it's time to expand your services; they can even help you sell more because selling someone on a Salesforce solution should be a team effort that benefits all the parties involved.
Understand the
Delivery Model
of your consultant and be sure you feel good about the amount of input you will have on the project throughout. Ask to have completed work demoed early and often so you can learn how your new system works and guide it to success along the way.
4. Technical Skill & Certification:
---
Most of the Salesforce development partners have
certified employees
working with them. However, you need to know how many of these certifications each and every employee holds. Much like searching for a Salesforce development partner with a diversity of client types, you ought to likewise search for a partner whose employees hold multiple certifications. And ensure that your consultant holds both Admin and developer certifications at a minimum.
Certified consultants need to be up to date with their credentials by passing release exams, so you are rest assured that they are well-equipped with the latest tools and technology.
Though it is important to consider the cost that would be incurred in and after the formation of this partnership, never make the decision of choosing your Salesforce Partner entirely on the basis of the costs involved. Take into consideration details such as the scale at which the partner is functioning, the platform it is offering, its customer base, its value in the market, the efficiency with which it carries out its activities etc.
The costs pertaining to Salesforce Partnership are going to vary and you should not worry only about the financial side of choosing a partner. It is advisable to go a little overboard with the budget if the concerned partner is highly suitable.
6. Long Term Relationship:
---
Whenever you are choosing your partner, never make the decision keeping in mind the immediate few projects you are going to handle and the immediate few activities you are going to perform. Your projects will get over in a few days or months, but your Salesforce Partner is going to be by your side, also providing Salesforce Consulting, probably for years at a stretch. It is therefore important to keep your long-term goals in mind and have your journey as a business thoroughly planned before you make this decision.
7. Client Reviews and Track Record:
---
Customer reviews are a great way to assess a Salesforce development partner's reliability and measure the performance of a consultant in the marketplace. Check for positive as well as negative comments and identify what customers have to tell. Lookout for customer reviews that include statements about their efficiency, timelines, continuous engagement, prompt and accurate delivery, number of projects completed, certifications and training, etc. These specific reviews will give you insights on what to expect from a Salesforce consulting partner. Remember that successful Salesforce is more about quality than quantity.
A successful Salesforce implementation can remarkably improve your business operation, but it's far from being an easy way, the process requires effort and expertise both from your and the partner's side. In fact, it's crucial for success.Be cautious of the objectives and constraints of the project and make sure that they are well understood by a potential consulting partner. Choosing the right partner can be an awesome task, but, if done properly, it can bring value to all levels of your organization.
Do You Need more information ?
---
by