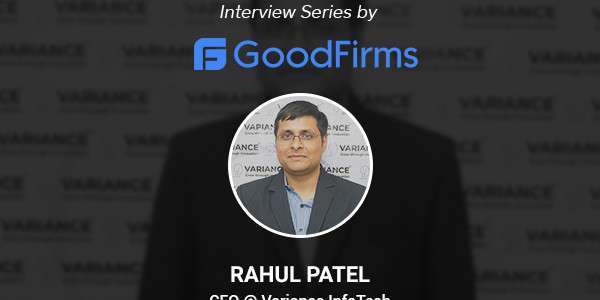 Talking About The CEO of
Variance Infotech Pvt Ltd
Mr.Rahul Patel shares consequential Business Strategies with GoodFirms,
Variance Infotech
is a global IT solution. Variance has quickly established a strong foothold in fields of Offshore Dedicated Development Center, Application Development & Maintenance, Software as a Service, Enterprise Solutions, Product Development & Support, Testing Services, and Search Engine Optimization. Expertise in Quality & Project Management has helped us achieve high standards for our clients.
The core business of Variance is to offer CRM
consulting and Solutions
. Until today Variance has helped 500+ companies to setup CRM for their entire business activities. Variance also offers extensions and plugins in CRM to sell at various CRM marketplaces like
vTiger
,
SuiteCRM
, and
salesforce
.
30% of the company's strength is involved in a dedicated team hired by customers from the US/UK and Israel region.
Variance InfoTech Pvt Ltd
offers its services in the area of Education & E-Learning, Finance & Insurance, Healthcare, Travel & Tourism, Manufacturing & Engineering, Automobile, Retail, Logistics & Distribution Industry, to name a few.
To understand what drives this motivated CEO and his firm,
GoodFirms
conducted one-on-one with Rahul Patel as part of their interview series. What follows here is an extract from that manifesting conversation.
Elite Interview Snippets:
---
In the interview, GoodFirms asked Our CEO about the company and his role. He said that Variance has always explored disruptive technologies like AR, VR, CRM solutions, and Custom Software Development. It has excelled in offering extensions and plugins in CRM to sell at various CRM marketplaces like
vTiger
,
SuiteCRM
, and
salesforce
, Mobile App Development, etc.
The Mantra of his firm is "My passion for technology always inspired me to something innovative to help the business community to drive their sustainable growth" we have just one feeling in mind that something we build or set up as a company, our idea is to offer customers robust technology or software solutions.
Business Model of Variance:
---
With 200+ tech-savvy employees, Our company offers 100% in house team. When working with past companies as an employee, we have just one feeling in mind that something we build or set up as a company, our idea is to offer customers robust technology or software solutions.
Our core business objective is to offer 100% quality work with no negotiation on pricing. Although the Implementation of this model meant losing customers, we can offer 100% quality to those customers who are ready to work with us.
Engaging Solutions For the New Reality:
---
Augmented and Virtual Reality has emerged as a market where we've witnessed only the tip of the iceberg at the current stage. Variance Infotech is one of the few mobile app development agencies which have proven experience in AR end-to-end augmented reality development services. Rahul's team helps businesses to explore the virtual world and creating experiences that delight, engage and assist growing the user base.
With game-changing augmented reality experience, and a development that includes 3D modeling/animation, digital audio-visual, and a robust frontend/backend development. Whether the industry is real-estate, or if the solution is required in the field of navigation, or if businesses wish to have a character experience developed for their end-user, Variance Infotech has an answer for all the requirements. Their solutions are delivered in popular AR development platforms such as Unity, Unreal Engine, Vuforia, 8th Wall, and ARCore.
CRM Consulting Services That Lead to Better Management:
---
Variance Infotech offers complete in-house development by their team, said Rahul, when asked about their business model, where all aspects of the project are taken care of by their team of professionals delivering the utmost quality that their clients expect. The firm has been helping businesses to map their business process to comprehend their CRM requirements well to deliver solutions that assist in a seamless digital transformation.
An all-encompassing approach that initiates from Research and culminating with Integration that covers Design, Development, Consulting, and Migration has helped businesses acquire not just a CRM solution, but a product that adds value to their practices. The CEO shared that the firm has served a diverse range of industries, namely HealthCare, RealEstate, Telecom, Startups, and Aviation and has enjoyed a discernable 70% repeat customer collaborations.
Continued efforts in this direction and the level of competency they exude will ensure that the firm soon ranks among the best CRM consulting services companies at GoodFirms.
CEO's Words for GoodFirms:
---
In the interview, Mr. Patel shares his experience of connecting with GoodFirms stating that 'We have followed GoodFirms for a long time, and we do appreciate their business ethics and technology solutions. Our customers have often said that they have reviewed our past customer reviews over GoodFirms, so it is a Very nice, transparent platform for companies like us.
The interview has other exciting information like – CEO's suggestions on a revenue-generating model from apps, brief about recent mobile app enhancements prevailing in the industry and much more. For further insights,
read the interview
at GoodFirms featuring the exclusive ideas of Mr.Rahul Patel.
Mobile App Development That Balances Aesthetics and Technology:
---
When inquired about the actually development process for mobile applications, Rahul recounted that 40% of time goes into the development and testing, another 40% in wireframing, UI Design, and User/UX research for the front end, whereas the remaining 20% of the time is taken up by the analysis encircling the project. Discussing the cost deciding factors, he explained that the Scope of work, targeted market, resources and technology involved, third party integrations, along with QA and testing required, are the chief drivers in finalizing the cost of a mobile app.
The CEO listed targeted problems, budget, timeframe, technological feasibility, and scalability as some of the parameters that dictate the platform selection for the development. The preferred platforms and frameworks their solutions are delivered in are Core PHP, Java, C++, C#, ASP.NET, Unity, Angular, Mean stack, Node, Code Igniter, Flutter, AR Kit, AR Core, MaxST.
Variance Infotech is envisaged to become one of the top app developers at GoodFirms by virtue of its comprehensive approach and technical authority.
Washington, D.C. based GoodFirms is a maverick B2B Research and Reviews Company that helps service-seekers in finding AR & VR Development, CRM Consulting Services and Mobile App Development companies that are rendering the best services in the industry. GoodFirms' bonafide research process ranks companies, boosts their online reputation and helps businesses choose the right technology partner that meets their requirements.
Anna Stark is presently working as a Content Writer with GoodFirms – Washington D.C. based B2B Research Company, which bridges the gap between service seekers and service providers. Anna's current role lingers in her to shape every company's performance and critical attributes into words. She firmly believes in the magic of words and equips new strategies that work, always in with ideas, something new to carve, and something original to decorate the firm's identity.
Do You Need more information ?
---
For any further information / query regarding
Technology
, please email us at
info@varianceinfotech.com
OR call us on
+1 630 861 8263
, Alternately you can request for information by filling up
Contact Us
by