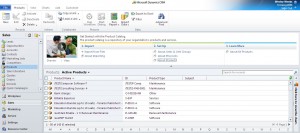 It is an information industry term for methodologies, software, and usually Internet capabilities that help an enterprise manage customer relationships in an organized way. For example, an enterprise might build a database about its customers that described relationships in sufficient detail so that management, salespeople, people providing service, and perhaps the customer directly could access information, match customer needs with product plans and offerings, remind customers of service requirements, know what other products a customer had purchased, and so.If
customer relationships
are the heart of business success, then
CRM
is the valve the pumps a company's life blood. As such, CRM is best suited to help businesses use people, processes, and technology to gain insight into the behavior and value of customers. This insight allows for improved customer service, increased call center efficiency, added cross-sell and up sell opportunities, improved close rates, streamlined sales and marketing processes, improved customer profiling and targeting, reduced costs, and increased share of customer and overall profitability.
Microsoft Dynamics CRM 2011 is a fully integrated customer relationship management (CRM) system. Microsoft Dynamics CRM gives you the capability to easily create and maintain a clear view of customers from first contact through purchase and post-sales. With tools to enhance your company's sales, marketing, and customer service processes—along with native Microsoft Office Outlook integration—Microsoft Dynamics CRM delivers a fast, flexible, and affordable solution.
Microsoft Dynamics CRM helps you drive consistent and measurable improvement in everyday business processes.
---
Advantages of Customer Relationship Management
The advantages that the introduction of the CRM solution brings to the way you manage your customer relations:
---
Understanding the value of a particular customer during their entire life cycle.
Consistent structured and complete customer information, customer identification.
Comprehensive customer management through all communication channels (telephone,e-mail, Internet, sales visits).
Greater emphasis on customer retention through loyalty-building programmers.
Planning product cross-marketing strategies.
Measuring marketing campaigns and sales activities impact.
Optimizing, automation and control of marketing, sales and service processes
Rationalization of operations saving time and money
---
Sales Features
Access a complete view of customer data online or offline, and leverage tools that enable your sales professionals to get real-time access to leads, identify cross-sell and up-sell opportunities, and close more deals, faster. Microsoft Dynamics CRM provides:
---
Lead and opportunity management
Account and contact management
Territory and sales quota management
Forecasting and sales analytics
Offline and mobile device access
sales literature management
sales pipeline and competitor analysis
Quick access to products, pricing, and quotes
Customer Service Features
Respond faster to customer service issues and empower your service organization to anticipate, address and deliver consistent, efficient customer care that contributes to long-term business profitability. Microsoft Dynamics CRM provides functionality for:
Account and contact management
Case and interaction management
Incident routing and queuing
Product and contract management
Knowledge-base management
service scheduling
workflow across teams and groups
service reporting and analytics
---
Do You Need more information ?
---
For any further information / query regarding
Technology
, please email us at
info@varianceinfotech.com
OR call us on
+1 630 861 8263
, Alternately you can request for information by filling up
Contact Us
by