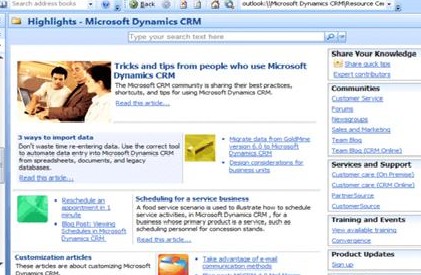 Dynamics CRM
Dynamics CRM is the Microsoft™s CRM package which promotes sales and marketing in an organization. Dynamics CRM is based on XRM platform and it supports .NET framework. It supports the client server architecture and it can be integrated to Microsoft SharePoint and implemented on IIS server to provide a web based solution.
Microsoft Dynamics CRM is an affordable technology solution that helps automate and streamline our organization's CRM strategy. It provides members across our organization with access to up-to-date information and new ways to respond quickly.Microsoft Dynamics CRM gives enterprise organizations a 360-degree view of their customers across marketing, sales, and customer service. Built on a highly flexible platform, Microsoft Dynamics CRM is designed to adapt to your business and scale right along with your growth. Set up for streamlined installation and simplified administration, Microsoft Dynamics CRM targets rapid return on investment (ROI) and offers an attractive total cost of ownership (TCO).
---
With Microsoft Dynamics CRM, we can
---
Achieve a complete customer view that is consistent across the enterprise with Microsoft Dynamics CRM
Give users a 360-degree view of customers
Achieve high user acceptance and productivity
Enable application flexibility
Accelerate project delivery and ROI
Provide availability, performance, scalability
---
---
Dynamic CRM provides out-of-box solution for sales and marketing management. The users can click customization and use the application as per their requirements, and the workflow can be automated to streamline business process and to reduce time taking tasks.
Dynamic CRM improves scalability, and performance and it helps in load balancing and run parallel inbox processing.
It can be directly hosted and provide solution to end users.
Dynamic CRM enables the company to stay in touch with the customers from the first contact to the post sales phase.
The flexible and easy to use-interface allows the use to communicate with customers and also to collaborate.
It provides quick and easy access to data, and it allows users to create new information.
Microsoft Dynamic CRM is web based tool that can also be integrated with Microsoft Outlook that offers familiar user interface to existing business users.
Microsoft CRM acts like an embedded Outlook tab, which avoids extensive learning curve and saves time on users gaining comfort level with the new tool. Microsoft CRM can also be integrated with Outlook to share your contacts, calendar.
Microsoft Dynamic CRM also has workflow feature that acts upon built-in as well as custom entities to implement common human as well as system workflows.
Microsoft Dynamic CRM workflows are capable of sending alerts such as emails; generate logs to monitor the processes.
Dynamics NAV Integration
Microsoft Dynamic NAV is one of the four ERP solutions of Microsoft. The software comes with a set of features for manipulating and customizing the ERP for user's need which is an exceptionally powerful tool, development language can be utilized by capable programmers to rapidly customize the application and separate stored procedures are not required to be written for handling the SQL database at the back end, the language can handle both the tasks which makes customization extremely easy and effective.
Microsoft dynamics NAV helps in integrating all the departments of organization through single application, it has modules like financial, human resource, supply chain, manufacturing, business intelligence, sales and marketing and project management.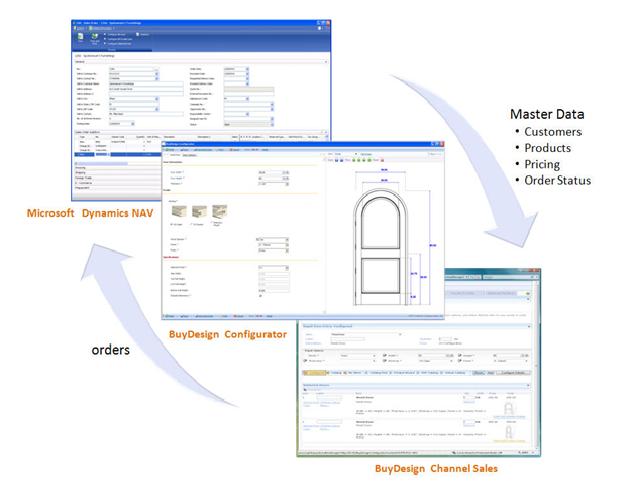 Dynamics NAV Integration
Assignment of primary ID and default field values, validation of input data, automatic population of summary and join tables.
Support for Customer, Items, Non-stock Items, Service Items, Orders, Invoices, Vendors, and Purchase Order business objects.
Picklist viewer and picklist validation for Dynamics NAV drop-down lists. Set any picklist field by its internal value or its user friendly name.
A query builder that can join objects, filter, and order when connecting to Dynamics NAV as a source.
Support for "fuzzy" matching when looking for Account duplicates via the Scribe Company Match component, an optional Dynamics NAV customization.
Microsoft Dynamics NAV plays an important part in building the cornerstone foundation for your business as it also easily integrates with your existing applications. In today's interconnected business community, integration is the key. Many companies have software components that they wish to keep. Shipping systems, warehousing, EDI, banking transactions are existing processes that may integrate with Dynamics NAV.
Microsoft Dynamics NAV makes it easy to spot trends and gain insight into your business activities, so you can capitalise on your knowledge and unearth new business opportunities. Automate your financial practices and procedures according to your needs and define the level of control that you want. With complete drill down and filtering capabilities, Microsoft Dynamics NAV provides clear visibility for all your financial transactions.
---
Do You Need more information ?
---
For any further information / query regarding
Technology
, please email us at
info@varianceinfotech.com
OR call us on
+1 630 861 8263
, Alternately you can request for information by filling up
Contact Us
by