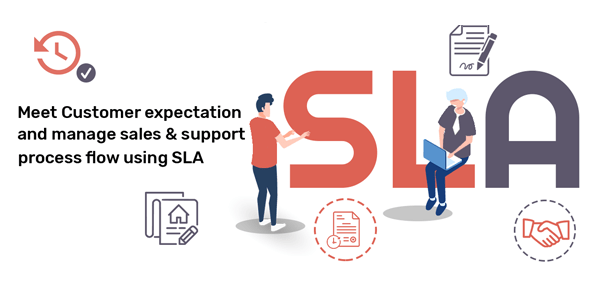 Simple Rules – When someone buy product/service from your company they always expect fast Post purchase support.
Either you buy TV / AC or any Mobile Phones, Every company in a world who believe in customer support must required to follow
SLA
.
Let's consider that your company buy a
CRM Services
and you would needs to run a sales report of first quarter to submit your manager in 1 hours. But somehow its not working due to some issues with CRM. So normally your first steps to check Live Support OR Phone call.
Your company has some agreement with the CRM providers to reply any queries in predefined time.
"If CRM provider fail to reply than it will escalate to their management team" – This will increase strong customer-vendor relationship.
Normally in Customer Based SLA There is Key Element Needs to be Consider as Below:
Type of Service Offered:
---
What will the customer expect from your service?
1. Reliability and Consistency of The Service:
---
What is the uptime duration ?
2. Response Time:
---
Time duration when issues has been resolved.
3. Reporting Method:
---
If there's a problem, what is the steps to reporting an issue?
4. Performance Monitoring :
---
Who reports on performance? and what performance information is provided to the customer?
5. Penalties :
---
What occurs if the SLA isn't met?
For a detailed implementation of service level agreement take a look at our extension build in SuiteCRM for SLA
here
Do You Need more information ?
---
For any further information / query regarding
Technology
, please email us at
info@varianceinfotech.com
OR call us on
+1 630 861 8263
, Alternately you can request for information by filling up
Contact Us
by