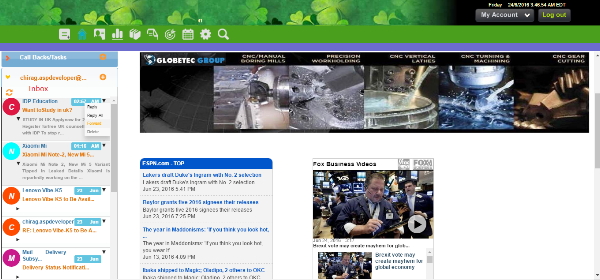 Variance Infotech created web based mail client system for any email account configured with this system and perform all operation like you can send and recieved email also forwad, reply and delete operation perform. We Implement new feature you can attached records by simply drag and drop.
With Mail manager, you get freedom to access your multiple email accounts like Gmail, Yahoo, Outlook… all at one place.
List of Configured and marked "Yes" as an active email account is displayed.
In home page, all configured accounts are displayed in a Tab on left side. Click on the email account you want to check in the tab list and it expands to display the inbox of selected email.
Mail Manager comes with complete set of functionalities of your regular inbox like read few lines, reply , reply all, forward and delete.
Attach attachments to the Records by simply drag and drop.
Read Mail from Inbox and directly click your choice of action – reply, reply all, forward or delete mail.
After reading, easily create a record of an email including its attachments as a new record.
Also an option to attach an email with existing record. Easily attach by selecting record from list or if it's not in the list; search, find and attach.
Reply a Mail and attach files.
This is overview of configured Mail Account. It displays all folders like Inbox, Sent, Spam, Trash with delete single or multiple option.
Compose Mail and attach files.
On Read mail pop up, User can attach mail as an History of any record for future. Also user can Create new record to store current mail as an history for future use.
Overview of creating a new record and attach mail with it.
Select existing record and attach mail with it or and search record and then attach mail with it.
---
Do You Need more information ?
---
For any further information / query regarding
Technology
, please email us at
info@varianceinfotech.com
OR call us on
+1 630 861 8263
, Alternately you can request for information by filling up
Contact Us
by