Hello, Recently we had requirement from our existing client to display autosuggest option in vTiger global search with the facility to manage specific to the module.
---
Global Search management from Settings
Skilled Team at Variance InfoTech created one screen in admin to setting the global search
Global search has been manage based on sort order, fields needs to display on search result and no. of rows needs to display per module under global search.
There is also active / inactive facility against the module where you can hide the display of autosuggest specific to modules.
---
---
Global search management from settings screen.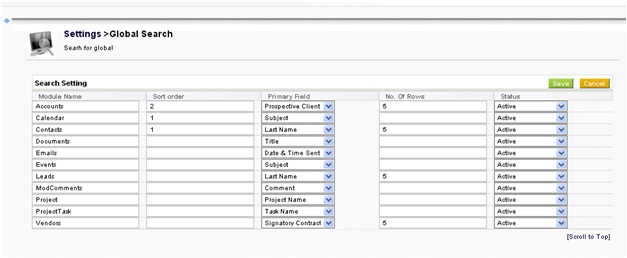 Global Search Display at User area
In vTiger global search area we added code to display auto suggest search based on the global search settings from the administration.
Auto suggests display only that module which is active from the settings.
Search list display based on sort order, field value and number of rows set for the each module.
---
---
Do You Need more information ?
---
For any further information / query regarding
Technology
, please email us at
info@varianceinfotech.com
OR call us on
+1 630 861 8263
, Alternately you can request for information by filling up
Contact Us
by